Upcoming Events
Saturday, September 9, 2023 8:30am - 12:30pm
Hardy Plant Society Fall Gardeners' Market
Looking to expand your palette of native plants? ARRIVE EARLY for the best selection. The location is three miles beyond Skippack Village at the 4-H Fairgrounds, 1015 Bridge Road, Collegeville, PA 1942
Newsletter
Summer 2023 Newsletter NOTE: We are looking for an editor for 2024 to pull the articles, trip reports and photos into a quarterly newsletter, Any questions, contact Kendra Schieber, editor, delvalfernsoc@gmail.com
Unusual selections at the HPS Fall Gardeners' Market
There are 11 top notch vendors participating in this sale, so don't miss an opportunity purchase some fabulous plant material for your fall gardening plan.
Expand your palette of native plants. Unusual native carniverous plants grown by members of the Mid-Atlantic Carniverous Plant Society will be available for sale. Anyone can get on their mailing list, but only members can offer plants for sale at meetings. We suggested the HPS invite this younger club to sell at the Fall Gardeners' Market.
DV Branch of NARGS have been propagating cuttings from their rock gardens for this show since March. Look for unusual native plant offerings to sell out in the first hour.
On Saturday, September 9, 2023 8:30am - 12:30pm, President Rick Reynolds will host an outreach table bring attention to our organization and recruit new members. He'll be offering fern selections from Gardner's Landscape Nursery (Chester Springs) as give-a-ways to the first new members we sign up. We're also looking for three volunteers to assist with engagement with shoppers at the table. Below are the volunteer time slots we'd like to fill: 9:30 AM to 10:30 AM 10:30 AM to 11:30 AM 11:30 AM to 12:30 PM
PHS 2024 Philadelphia Flower Show
We received our invitation to exhibit at the 2024 Philadelphia Flower Show with an invite to a Zoom meeting in three days. Friday Aug. 25th 3 p.m.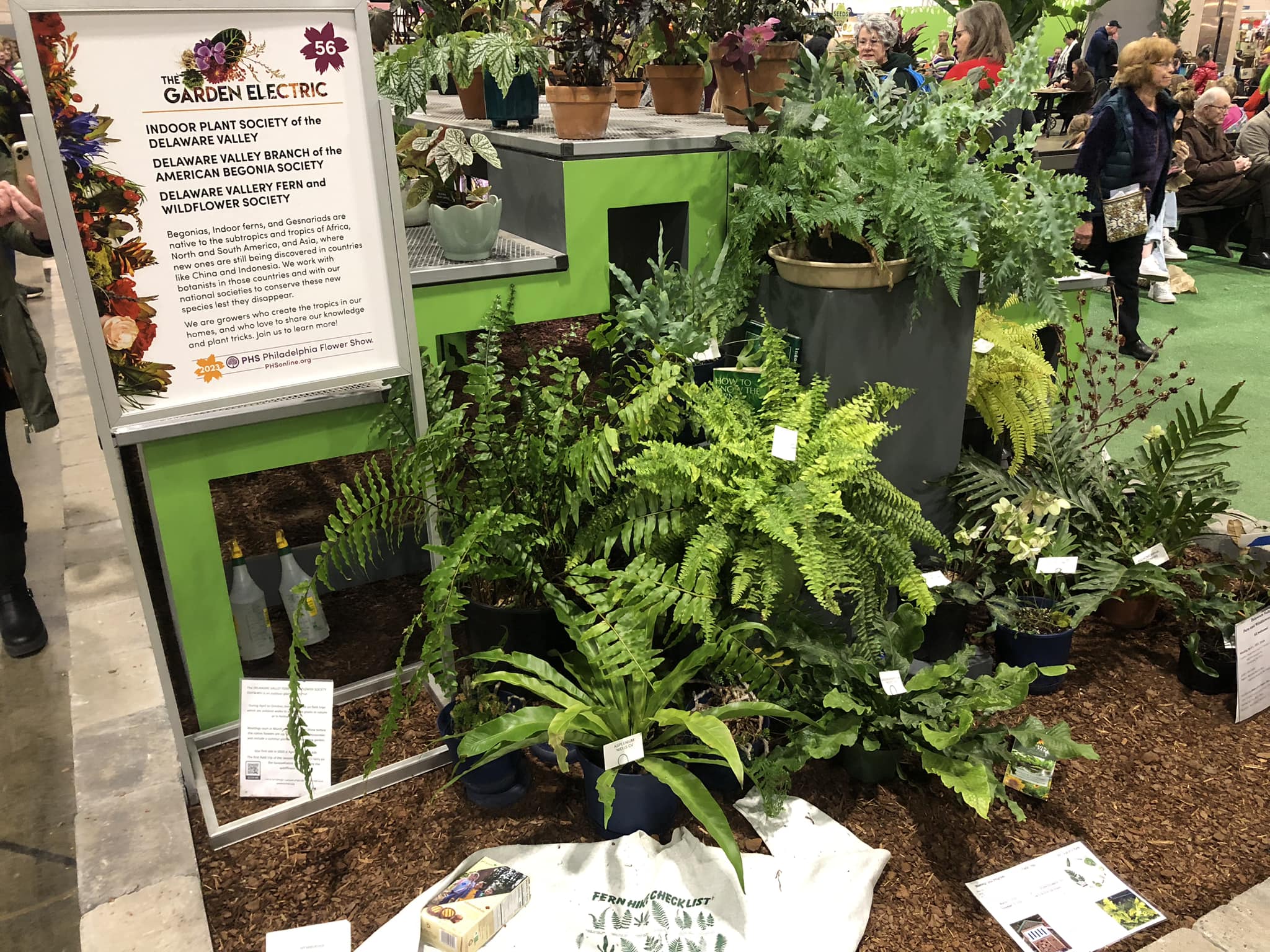 Membership
All are welcome with an interest in outdoor walks and field trips to see native plants in the ground. Dues are $10 a year or $14 for a couple in one household. Click on Membership on the left to see categories of membership.
We hold three business meetings in November, March and at a summer picnic. From April to October we take walks, aka field trips, to explore natural areas and gardens displaying native plants and ferns. We educate others from an exhibit at the Philadelphia Flower Show. A speaker on ferns is available for lectures to other societies.
About Us: Mission
The Delaware Valley Fern & Wildflower Society is an outdoor plant society. We welcomes all people with an interest in walking to discover ferns, wildflowers, and native plants outdoors and sharing the experience with other plant lovers. From April to October, members meet on field trips which are outdoor walks to appreciate plants in nature or in formal gardens. JOIN US!