Upcoming Events
Friday, May 12 at 11 am. Secret Springs Bucks Co., PA, and Milford Cliffs in Hunterdon Co., NJ.- optional MAP

Plant Sale - Brandywine Conservency holds their annual Wildflower, Native Plant & Seed Sale from FRIDAY MAY 12, 2023 - SUNDAY, MAY 14, 2023 LEARN MORE Shop for a wide variety of native grasses, ferns, vines, shrubs, and trees at the Brandywine Museum.
Trip - 10:30 am. Saturday, May 27. The Laurels. Chester Co., PA OVERVIEW
Trip - Friday, June 9 at 10am. Northview Gardens of Jenny Rose Carey, Ambler, PA MAP
Picnic - Friday, July 1 at 11am. Summer Picnic at the Gardens of Michael Martin Mills, Philadelphia, PA MORE
If you need directions, please reach out to David Lauer by email: DML1000@comcast.net
Newsletter
Spring 2023 Newsletter NOTE: To see your words in print, send the article to Kendra Schieber, editor, delvalfernsoc@gmail.com
Inside the newsletter:
Summer picnic July 1st on Burnham Road
Upcoming Field Trips (May, June)
April Field Trip Report - Schenk's Ferry
Meeting Minutes - April 1, 2023
Recap of lecture and native plant auction
Flower Show and New Member recap
April 1 Lecture 'Expanding the Native Plant Palette'
On April 1, 2023, the 10 am business meeting in the Harrison Room at Chestnut Hill Presbyterian Church was conducted. The spring and summer Field Trips were reviewed by David Lauer, and the Philadelphia Flower Show outreach efforts were reviewed by Leslie Morris-Smith. Janet Novak kicked off a silent auction with six hard-to-find native plants from her garden. She gave her presentation on "Matching Place to Plant: Expanding the Native Plant Palette", which was well received.
The meeting location at the Presbyterian Church of Chestnut Hill, 8855 Germantown Ave, Philadelphia had ample parking in the rear of the Church. The comfortably spacious meeting room was at ground level, easily accessible from either door on the rear parking lot.
At the Philadelphia Flower Show
Our educational exhibit of indoor ferns with five other plant societies that were new to the show comprised the first-ever Combined Plant Societies exhibit. Interest was very high. The ferns exhibited were The ferns exhibited were Aglaomorpha coronans, Asplenium nidus, Davallia mariesii, Davallia solida var. fejeensis, Microsorum musifolium 'Crocodyllus', Nephrolepis biserrata 'Macho', Nephrolepis exaltata 'Rita's Gold', Nephrolepis exaltata 'Tiger', Nephrolepis falcata, Phlebodium aureum, Platycerium veitchii 'lemoinei', Pyrrosia lingua 'kei kan'. Several of the specimen ferns and plants were on loan from Kendra Scheiber or Paxson Hill Farm & Nursery in Solebury, PA.. Over 50 copies of our Hardy Fern booklet were sold; sixty-six volunteers from ten societies hosted; and scores of visitors signed up to be contacted.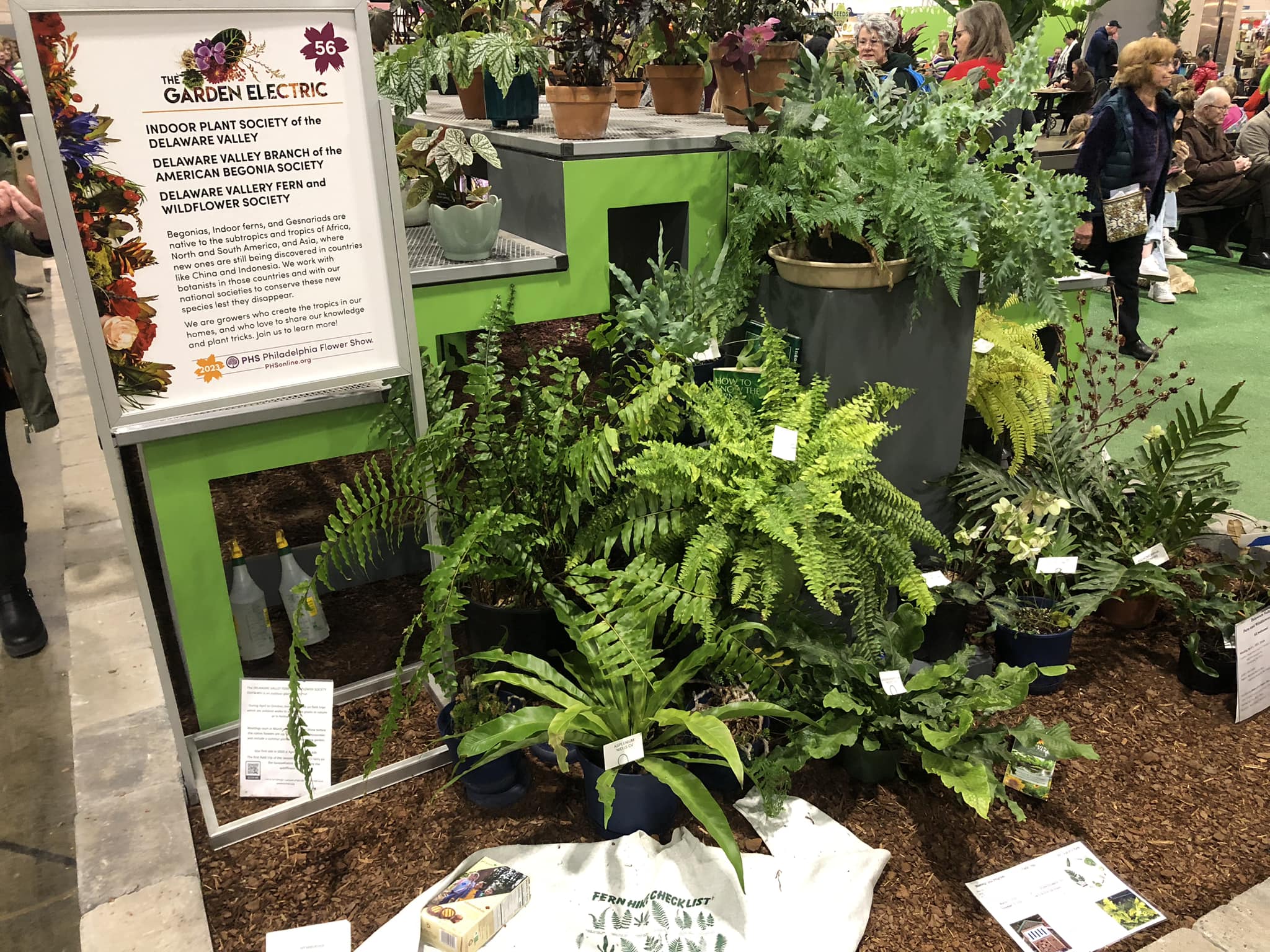 Membership
All are welcome with an interest in outdoor walks and field trips to see native plants in the ground. Dues are $10 a year or $14 for a couple in one household. Click on Membership on the left to see categories of membership.
We hold three business meetings in November, March and at a summer picnic. From April to October we take walks, aka field trips, to explore natural areas and gardens displaying native plants and ferns. We educate others from an exhibit at the Philadelphia Flower Show. A speaker on ferns is available for lectures to other societies.
About Us: Mission
The Delaware Valley Fern & Wildflower Society is an outdoor plant society. We welcomes all people with an interest in walking to discover ferns, wildflowers, and native plants outdoors and sharing the experience with other plant lovers. From April to October, members meet on field trips which are outdoor walks to appreciate plants in nature or in formal gardens. JOIN US!